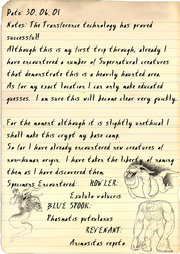 Transcript
Edit
Date: 30. 06. 01
Notes: The Transference technology has proved successful!
Although this is my first trip through, already I have encountered a number of Supernatural creatures that demonstrate this is a heavily haunted area. As for my exact location I can only make educated guesses. I am sure this will become clear very quickly.
For the moment although it is slightly unethical I shall make this crypt my base camp.
So far I have already encountered new creatures of non-human origin. I have taken the liberty of naming them as I have discovered them.
Specimens Encountered:
HOWLER:
Exululo volucris
BLUE SPOOK:
Phasmatis puteulanus
REVENANT:
Animositas repeto
Ad blocker interference detected!
Wikia is a free-to-use site that makes money from advertising. We have a modified experience for viewers using ad blockers

Wikia is not accessible if you've made further modifications. Remove the custom ad blocker rule(s) and the page will load as expected.