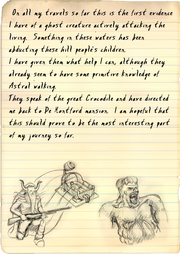 Transcript
Edit
On all my travels so far this is the first evidence I have of a ghost creature actively attacking the living. Something in these waters has been abducting these hill people's children.
I have given them what help I can, although they already seem to have some primitive knowledge of Astral walking.
They speak of the great Crocodile and have directed me back to De Montford mansion. I am hopeful that this should prove to be the most interesting part of my journey so far.
Ad blocker interference detected!
Wikia is a free-to-use site that makes money from advertising. We have a modified experience for viewers using ad blockers

Wikia is not accessible if you've made further modifications. Remove the custom ad blocker rule(s) and the page will load as expected.